The Frederick County Board of Education is considering funding a new HR position focused on recruiting and retaining candidates from underrepresented backgrounds.
The idea has been pitched in the past few years, board chairman Brad Young said in a working session on Jan.26, but has never been able to complete the budgeting process.
Board member David Bass moved last week to add the position to next year's spending plan, while the board worked to finalize the draft budget it will present at a public hearing on Wednesday.
The position would help the council meet its stated goal of having staff demographics that mirror its student population by 2025, Bass said.
The system has a long way to go on this front, and Bass acknowledged that the target was unlikely given current trends. According to the most recent available data, which includes hiring data for the 2019-20 school year, racial and ethnic minorities made up 43% of the student population at Frederick County Public Schools, but only 13% of its staff.
The biggest gap exists between the district's Hispanic or Latino staff and the student population. 18% of FCPS students are Hispanic or Latino, but only 4% of its staff members are.
Black staff members make up only 6% of the district's staff, despite black students making up 13% of its student body. 6% of the district's students are Asian, but less than 1% of its teachers are.
White staff, meanwhile, are vastly overrepresented, making up 87% of the district's staff and only 57% of its students.
The data does not include non-beneficiary or part-time personnel.
Bass's motion sparked a discussion among board members. Board member Karen Yoho said she would support the idea, but expressed doubts that it would solve the problem, which implied a lack of candidates from people of color.
"You can have a specialist, but unless they have a magic wand to create people …" Yoho began. "I am ready to try it. But people have to be there to be captured, and from what I've seen for years, people aren't there. "
Board member Jason Johnson, a black man and computer science teacher, disputed Yoho's point of view.
"I couldn't disagree with you more. They are out there. I'm sitting right here, "Johnson said." And there are hundreds and thousands of people who look like me out there. I think the "I'm just not out there" mentality – it's absolutely not what we need. "
However, Johnson wondered if it was necessary to fund an entire position focused on minority recruitment, rather than simply asking the district's current HR staff to look into the matter. The proposed salary for a recruiting specialist would be approximately $ 112,000.
Chantress Baptist, FCPS's new HR director, said she believed the position would be invaluable to her department. In addition to trying to recruit several candidates, he said the specialist will create support groups for existing minority personnel and create partnerships with minority organizations in the county.
Board member Jay Mason said those additional roles would be especially important. He said he had heard from several FCPS black teachers over the years who left the system, citing a negative experience.
"We can recruit all day," Mason said. "It doesn't help to recruit if we don't keep."
The number of minority staff members in the FCPS increased by 45% from 2015 to 2020. The share of non-white new hires has grown or has remained constant each year, although new black hires are much rarer in the certified category : teachers, specialists, administrators and supervisors – versus those that fall into the non-certified category, which includes positions such as bus drivers, restaurant employees, and education assistants.
Kisha Coa, chair of the council's Racial Equity Committee, wrote in a statement that funding a minority recruiting position would demonstrate "FCPS's commitment to racial fairness and help create a more inclusive environment for our student body ".
The statement noted that other Maryland school districts had invested in a similar position.
"Although FCPS has made great strides in hiring diverse staff over the years, there continue to be opportunities to attract more diverse candidates for all positions," Coa wrote. "The research found that racial diversity among staff, especially teaching staff, has a positive effect on student success."
Eventually, each board member supported Bass's motion to add funds for the recruiting position in the draft budget. But Young warned that the council will likely have to make significant cuts once it learns how much money it is receiving from the county.
"I also want to give the dose of reality that once we get our final numbers, we are unlikely to get everything we ask for," he said. "And then we'll have to go back and make tough and tough decisions."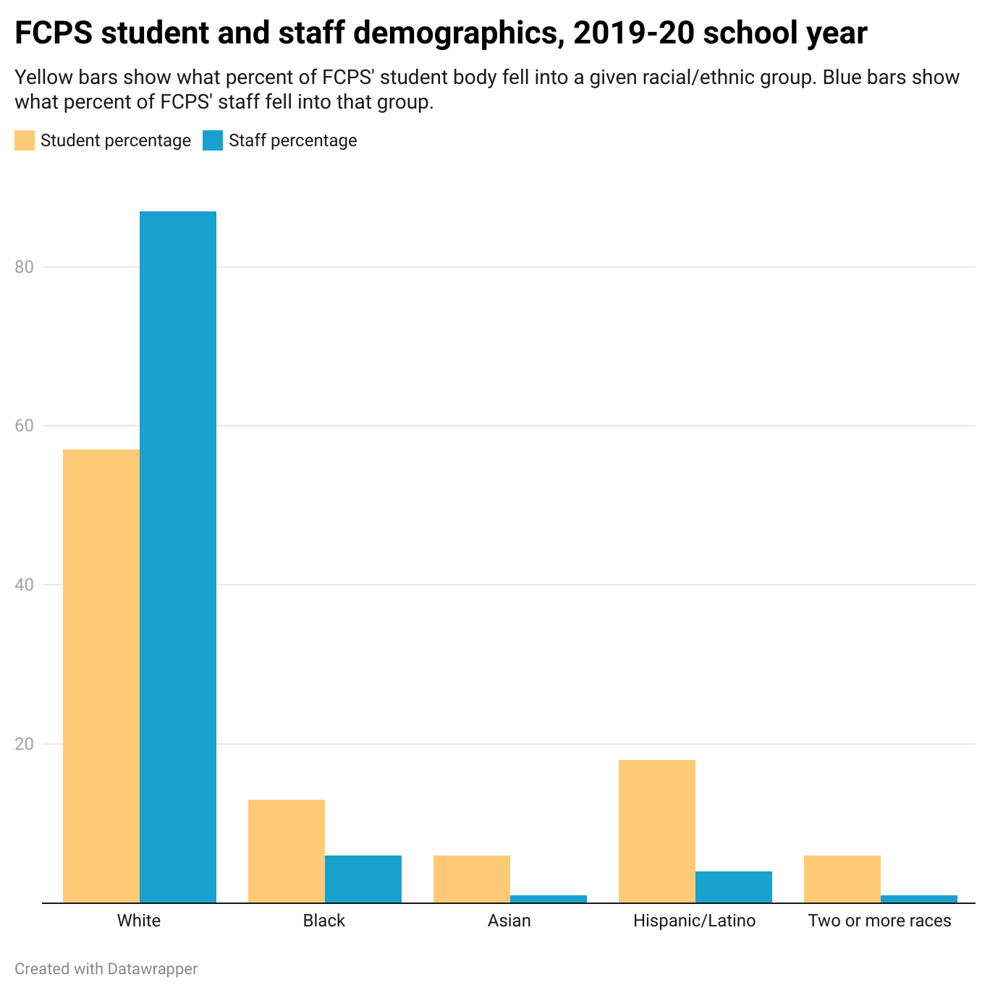 .